My first motorcycle, the venerable XS1100
I got my first motorcycle at the end of September '08 for $500, and it hadn't been run in over a year. The previous owner had received it when she purchased her mobile home, but it was too big for her to feel comfortable riding. It's a 1981 Yamaha XS1100LH Midnight Special. It's black with gold accents. It has a few dents in the tank, and I cleaned out at least 4 mud dauber wasp nests and several spider nests, since it had been living in a storage shed for quite a while. I managed to get the carbs cleaned out, and with the help of the members at XS11.com, I am learning what needs to be done to turn this beast back into the beauty it once was. I now ride whenever possible, as long a it's not raining too hard, and there's no ice on the roads (lowest temp I have ridden in was around 5ºF, highest was 108ºF). I've become rather addicted to this bike, and I look forward to many more years on the road with it.
August '09 update:
I have really learned a lot about this bike since last Fall! I have opened up the transmission and completed the fabled "2nd gear fix" on 1st, 2nd & 3rd gear, replaced the front tire, spark plugs, and all the brake pads, found more jets in the carbs than I ever knew existed. I also replaced the rear Master cylinder with a used one from an '82 XJ1100 Maxim. I replaced the original fuse block with more modern spade-style fuses in hopes that the electrical gremlins will have less of a chance to make a home in my bike. I obtained a set of faux-leather saddlebags from e-bay, and a full fairing from a fellow XSive over in Illinois. It even had a Cyclesounds (radio) setup on it and a cheapo rain suit packed in the locked compartment! That has already come in handy once. The fairing makes a HUGE difference in riding comfort, especially at higher speeds. I can relax and not worry about being blown off the bike by the wind! I bought a luggage rack with an adjustable backrest from another XSive a few weeks ago. It's been powder-coated gloss black, so it goes perfectly with my Midnight Special! I also got a Vetter trunk from Craigslist (visible in the picture at right), and made my own wiring pigtail for it. I made my own mounting bracket, and bought the rubber "Bunkees" from Craig Vetter so it would be mounted properly. It has already proved it's worth, as I hauled my tool bag in it to Kansas City where I met up with a few other XSives for an unofficial rally.
Suzy actually volunteered to take a ride on the bike! We've been on a few jaunts around the neighborhood over the last few weeks, and she's actually considering the idea of getting a bike of her own sometime! I'll need to locate a new helmet for her, since my spare is too small for her, and it's really uncomfortable for me too.
I finally got a full set of Vetter hard saddlebags! I bought the mounting bracket from a fellow XSive via eBay, and found a matching set of bags/trunk on Craigslist in Kansas City. The picture at the top right was taken next to the Eads Bridge in Downtown St. Louis. I love the history behind the bridge, so I thought it would be a nice photo-op. For a progressive photo gallery of my bike, click here.
September '09 Update:
I finally replaced the old rear tire on my bike. It had an old Cheng Shin, but after over 3000 miles of riding in the last year, it had lost almost all of it's tread, and was starting to show some weather-checking on the sidewalls. So, after comparing the opinions of tires used by other XSives, I decided to try the Dunlop Elite III. It was $110 plus installation, from Motorcycle Superstore. One of the comments made by another rider was that this tire eliminated the problem caused by road grooves. Always before, as I rode down the freeway, the rain grooves would cause the bike to swerve, following the pattern of the grooves. Now, with this new tire, the largest grooves, and even the full seams between the road concrete can't make the bike swerve! It's as though they aren't even there! I love this new tire, and will definitely use it again on this bike.
Now that the weather is starting to cool off, I became more concerned about comfort in the cold. I managed to find a matching set of Vetter lowers for my fairing. I had to modify them a little bit, since they were not the ones originally designed for the XS11, but they will be fine. I now truly have a "full bagger" bike! That's what it looks like now, on the lower right of the screen. Spring of 2010: My list of things to do to the bike has just shrunk a bit. I located a left side cover to replace the one that jumped off on the freeway last year. Unfortunately, it also had a broken latch. I learned from a fellow XSive and a guitar repair website that you can use superglue, dusted with baking soda to build up broken ABS plastic! I know it sounds strange, but it actually worked! One drop of glue at a time, each one dusted with baking soda, built up a nice, hard lump. The next day, after curing, I was able to grind and sand it to shape, and it is strong enough to actually lock the side cover to the bike now! I finally located a centerstand and and replaced the dented fenders, and located a set of 3-point engine guards (not pictured), so now my bike is officially complete! From now on, the rest is cosmetic/details. I re-wired the trunk and replaced all the tail/brake lights with LED bulbs to lower the electrical needs of the bike. I'm debating doing the same with the turn signals, but that will force the elimination of the stock self-cancel feature. I'm not sure I want to loose that. I just finished a 1400-mile round trip adventure! I rode to the annual Meeting Of The Minds XS1100 rally in Texas, and met several other XS11 owners. The trip there was uneventful, but it rained while I was there, and discovered that one of my coils was cracked, and didn't like the rain. A bit of JB Weld sealed the crack, and I rode half of the trip home in solid rain, with no issues. While I was there, I learned several things about the differences between the years/models of XS's that I had not known before. The long ride definitely stressed my 30-year-old seat, and I will be needing to fix that soon. Summer of 2010: I managed to get my seat fixed, and opted for the less-expensive vinyl replica cover. It even has the same grain and double top-stitching like the original MNS seat cover did! I left the foam innards the same, as they were in relatively good shape. Some day, I may splurge for a custom foam job, but not for a while. I just got my own Carbtune Tool and a Colortune plug, so I can properly tune my carbs. It really makes a difference when all the carb settings are dialed in! I got a Dynojet kit installed, and that increased my fuel mileage from 28-32 MPG to 42 MPG! I won an Ebay auction for a set of authentic 30-year-old Vetter Hippo Hands, so I'm now looking forward to the cold Winter months so I can try them out. In case you happen to own a set and are wondering how to clean them (this applies only to the non-reinforced versions), just wash them in the washing machine in hot water, and dry them almost all the way in the dryer to fluff the lining out. Hang them up for a day or three, and they will look good as new! Winter 2010/2011: The Hippo Hands have really made a difference this winter! I have worn my summer gloves all season, in temps down to single digits (ºF) without a problem! If I was going on a long trip, heated grips would probably be a nice touch, but I have nowhere to go until Summer anyway. I got new SS brake lines, and though I didn't really feel much difference on the rear, it did stiffen the front brake lever. I installed a TKAT fork brace, and that solved my problem with the wheel/triple tree alignment. I also replaced the sealed-beam halogen headlight in the fairing with an HID headlight. That really lights up the road a TON better than the old one! Planning a trip to Virginia for Memorial Day weekend, and I'm really looking forward to it. Summer 2012: I never did make it to Virginia in 2011. The cost was just too high. However, I was able to save my pennies and I made it to the 2012 XSEast Rally in Ohio! I put 1400 miles on the bike over that weekend. I was one of 23 bikes, but only 6 of them were XS1100's. Out of those 6, I managed to walk away with the award for the best XS1100 in attendance! I was also recognized as the one who rode the longest distance to get there on an XS1100, but the plaque was given to an XSive from Cananda, since I already had one. I used the long trip to test my "Vetter Magic Seat Board", and I must say, it was an incredible success! I had no butt pain at all, even after 10 hours in the saddle! I have managed to finish the LED conversion and built the circuit that retains the auto-cancel feature when using LED turn signals. I also sewed new pads for the Vetter trunk and the sliding back rest, since the 30-year-old vinyl was getting cracked and brittle. Thanks to one of the members who attended XSEast, I was able to obtain a J&M Handlebar-mounted CB radio kit! It's a wired setup, but this way, I don't have to worry about charging a headset. I hope to use the radio when I go on the local group rides, and whenever I travel long distances to look out for speed traps. 2014 Update: Well, I have successfully relocated to Northern Utah! My commute to work is now 30 minutes on an 80-mph freeway instead of the 1.3-mile commute I had in Missouri. This means I get to ride a lot more miles now! I did beat my low-temperature record this winter when I pulled into the parking lot at work and read the thermometer on the digital sign that read "4°F". I think I will need to get better thermal pants for next winter though. My armored mesh pants work ok, but let in a bit too much cold air. August 2016 Update: This Summer, I joined several other XSives in Colorado, and we all rode to the top of Pikes Peak! It was quite an adventure! We rode the sweeping turns around Cañon, Co. and I camped from my bike for the first time. Well, after 8 years of riding and wrenching on this wonderful bike, I have made the decision to upgrade to a more modern machine. This page will remain as a resource for others, and I have built a new page for my new 2010 Honda Goldwing.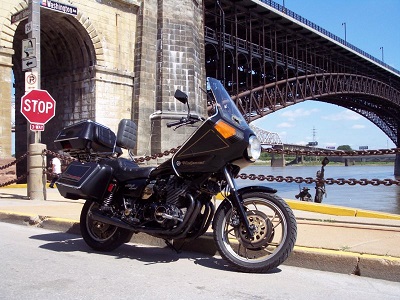 Resources for riders:
So, you have an XS11, but you're not sure what model it is?
Click the following links to download:
1981 (Std/Special) Yamaha XS1100 Owner's Manual
Yamaha XS1100 OEM Service Manual (1978 only)
Yamaha XS1100 OEM Service Manual ('78-'81)
After-market Yamaha XS1100 Service Manual (1978-1981)
Yamaha XJ1100 Service Manual (1982)
Shaft Drive Service Manual (applies to XS's and XJ's)
Installation/wiring instructions for the original Pacifico Fairing
10 printable, disposable, double-ended dipsticks for middle and final drive oil levels (XS/XJ)
Yes, you/we are INVISIBLE! By T.C. Gresham (PDF)
Link to Vetter's supply of mounting instructions for all his fairings and luggage
Installation instructions for J&M's CFKR-350B Cell Phone/Radar Detector integration unit
___________________________________
Follow this link to a page with manuals and resources specific to other bikes - Stuff I have collected over time
I have noticed that about 50% of the searches that lead to this site are looking for Triumph information. I don't pretend to know anything about Triumphs, but I do have a section of manuals and other information about a few of them located here.
If you have a document or resource that you think would benefit other readers of this page, or you have comments or questions about the documents listed here, please E-MAIL ME, and let me know. I do actually read and answer your emails, usually the same day!
Interested in helmet safety? I did some research. CLICK HERE to read what I found!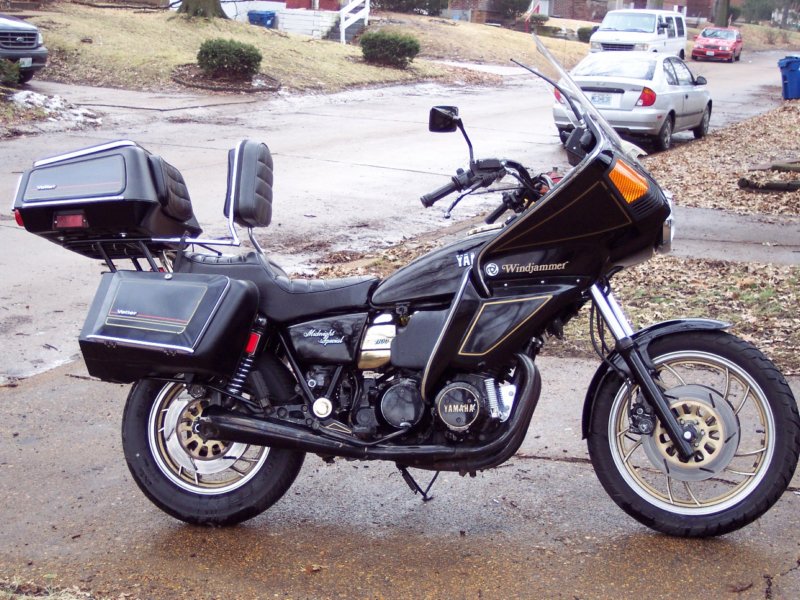 Running Total of MODs I've Performed:
New spade style fuse block

2nd gear "dremel fix"

Added full Vetter system - fairing with lowers, saddlebags & trunk

XJ1100 rear master cylinder

XS850 final drive

Accel coils

Dynajet carb kit

Automatic cam chain tensioner

LED lights all around

No-Load flasher unit with mod to retain self-cancelling turn signals

Braided stainless brake lines

TKAT Fork Brace

J&M CB radio kit

FIAMM horns